RoyaltyWorx allows you to use a custom-branded Licensor Invoice Submission Screen and Statement Header. Below is an overview of those elements and how you can add your branding.
Licensor Invoice Submission Screen
With RoyaltyWorx, you have a Licensor Invoice Submission Screen for your Label Group. When you issue the statements to your artists, they have the opportunity to directly submit an invoice to you online, to request their payment which is done through the Licensor Invoice Submission Screen.
The Licensor Invoice Submission Screen is an integral part of the RoyaltyWorx system and so is part of the Required Actions. In order to give a professional look to your artist statements, we need to design a custom invoice submission page for you that will also tie in with your branding.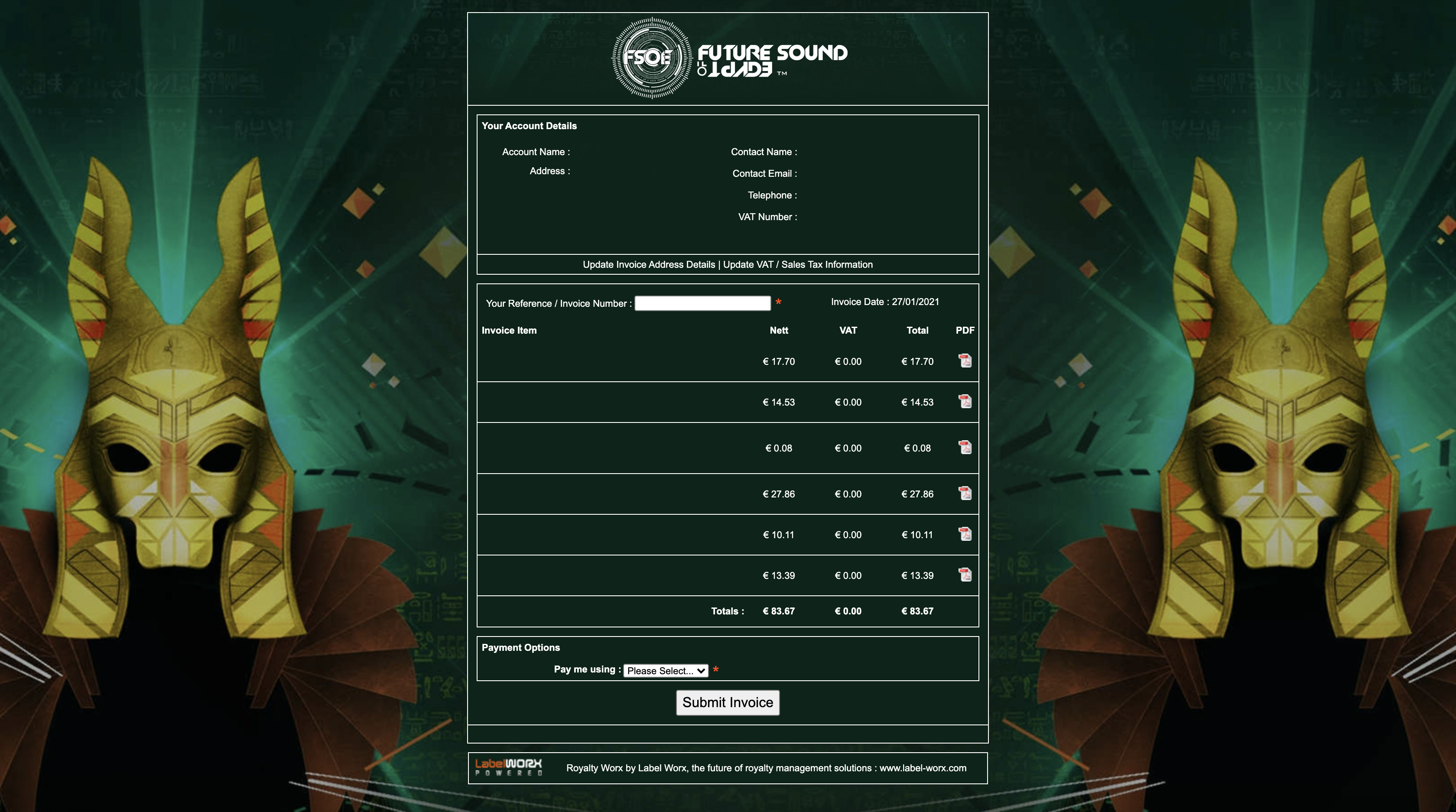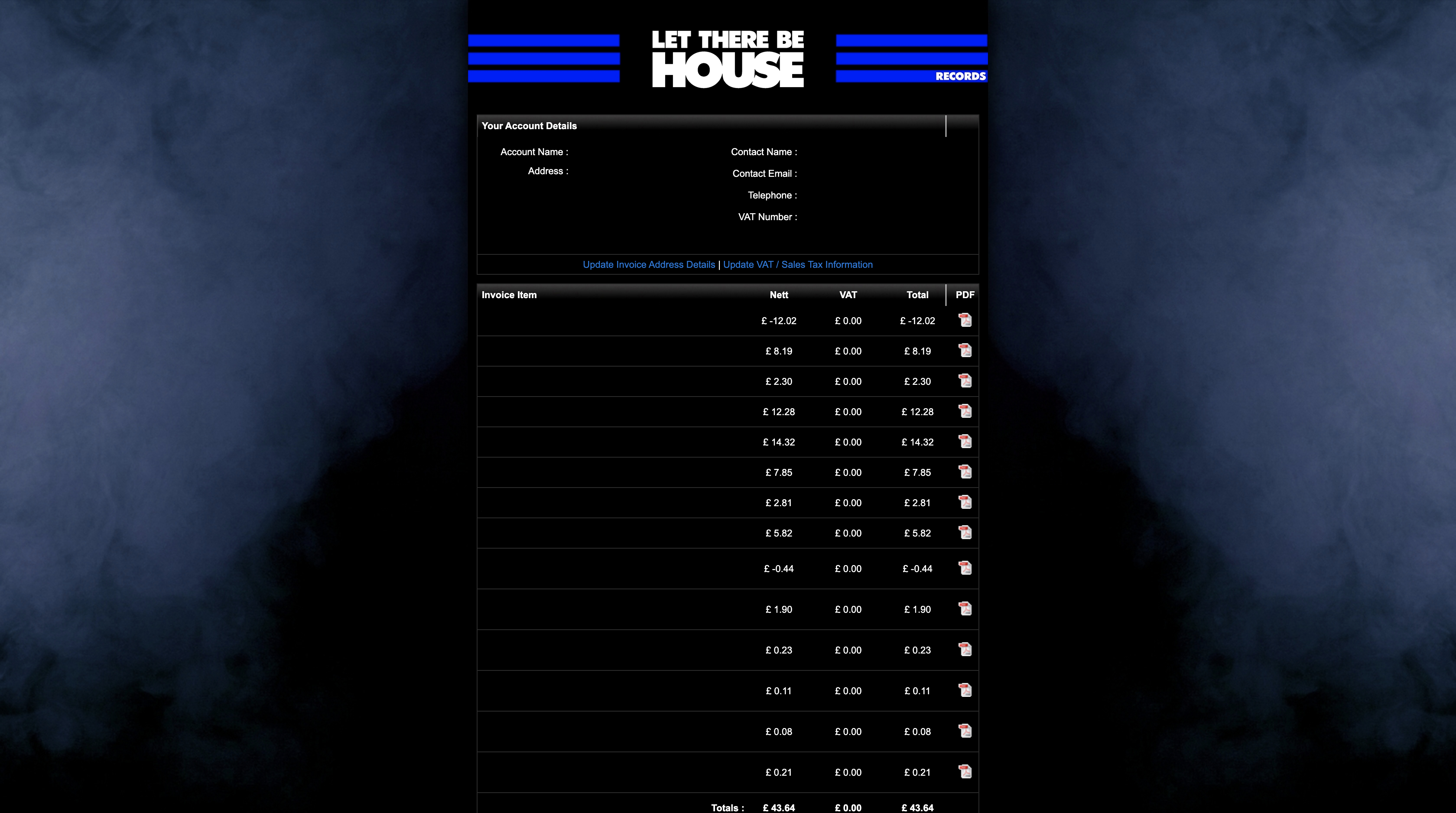 How to Get Your Licensor Invoice Submission Screen Styled
In order for us to put together your Licensor Invoice Submission Screen, you will need to send us any relevant logos, images or files that may help with the design.
Please use this form to provide the below information: LabelWorx Support Form
Link to your website / social networking page if you want us to copy that style.
High-resolution logo to use in the style.
The colour scheme you would like us to use (i.e. White background, Blue text or include HEX codes)
You are welcome to provide your own header image (1200x208 pixels).
If you do not send one we will create one for you.
You are welcome to provide a footer image (1200x36 pixels).
If you do not send one we will create one for you.
Any other images or files to be used or used as a reference.
Alternatively, if we have already built a custom Promo Template for you, and you want us to duplicate that style, just let us know and we will build your Licensor Invoice Submission Screen around that.
Statement Page Headers
You can also add your branding to the statements created for each and every artist with the Page Header.
The Page Header will appear as an image at the top of the statements. You have freedom with what you would like to include, such as Label Logo, taglines or slogans.
Page Header - Exact Size Required = 1500 x 150 pixels JPG





Video Walkthrough
How to Add Your Statement Page Header
From the LabelWorx Dashboard, select Settings from the Top Menu. This will take you to the Account Settings page, where you should already be on the Account Details tab. You will see on the lower section of the screen the title, Page Header.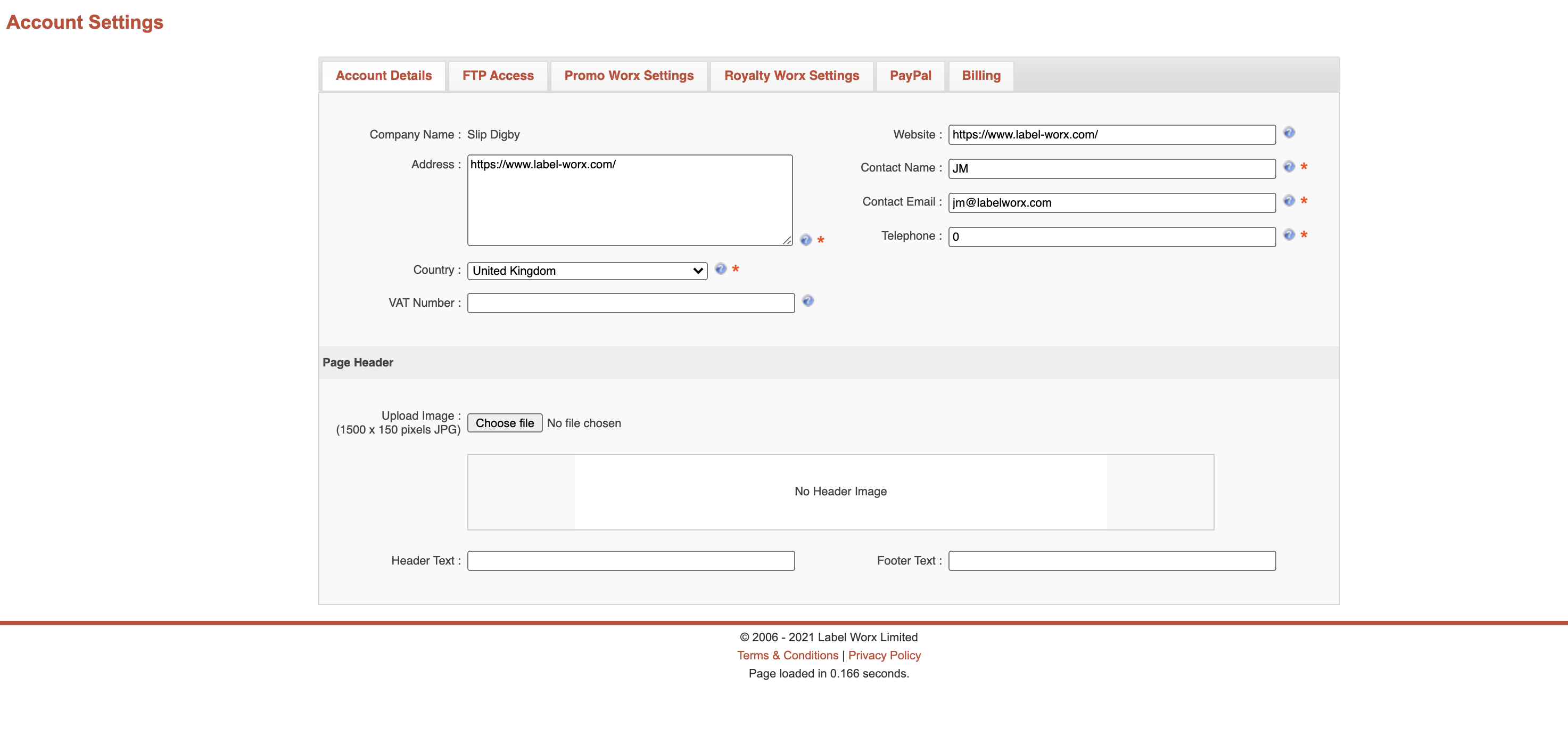 You can click on Choose File to select your Header image from your storage device and then click Apply. The system will then upload the file and you should see your Page Header appear. If there are any issues with your file, you will receive an error message highlighting the problem. In most cases, it will be the image size that may need double-checking.

You may also supply Header & Footer Text lines that will appear on your document. Common uses for these include VAT/TAX and Company Reg. numbers.
Once you are happy you have entered all of the relevant information you wish to appear on your statements, click Save to complete the process. This will also now remove this task from your required actions.