Pre-Order, Pre-Add and Instant Gratification Track are all promotional strategies you can implement for Apple Music and iTunes during the run-up to your release date. Below is a brief explanation of the options and how you can implement them.
ITUNES PRE-ORDER
Pre-orders allow customers to purchase a playlist or single before the date of purchase. Once the playlist or single reached its sales start date the tracks download automatically to a customer's library.
Pre-Order will be enabled as default for larger releases with 4 or more tracks. You can manually enable Pre-Order for iTunes within the Pricing button (Icon Menu, Release Details page)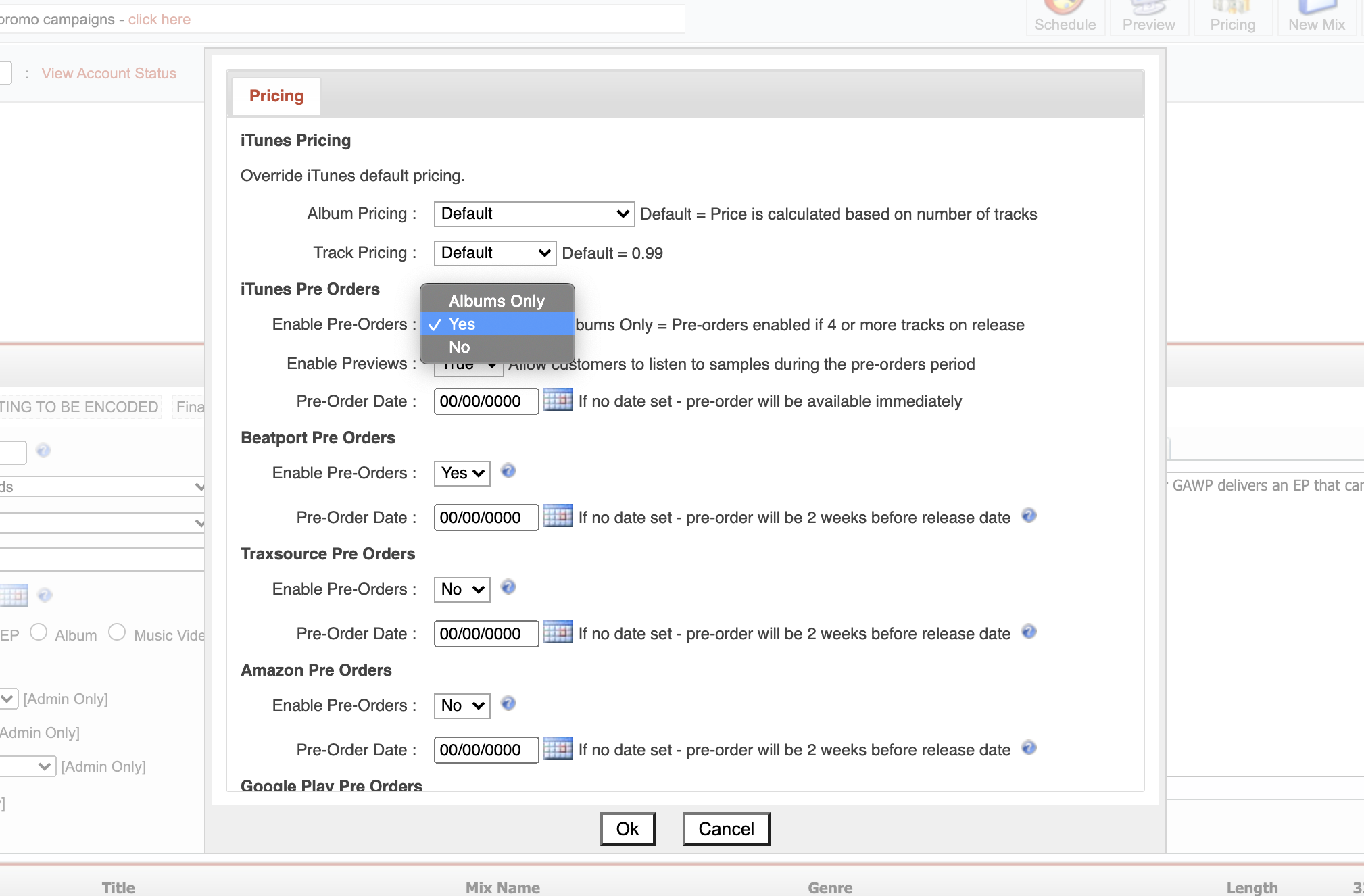 ITUNES INSTANT GRATIFICATION TRACK
Instant-gratification tracks are available for individual purchase during the pre-order period if a customer pre-orders the album. Once the pre-order is purchased the track will download immediately or when any of the instant-gratification tracks pass their respective available dates.
If you wish to enable Instant Gratification on one of your tracks, please contact Support with the following information:
Release EAN/UPC:
Instant Gratification Track:
Instant Gratification Start Date:
Be sure to follow these rules before choosing a pre-order track:
The sales start date must be at least one day in the future from pre-order start date you're adding for the new instant-gratification track.
All instant-gratification tracks or music videos must be cleared for sale in a pre-order territory, or they will not be available.
The combined price of all instant-gratification tracks on an album must be lower than the album price by at least the price of one mid-tier song.
APPLE MUSIC PRE-ADD
Pre-adds allow customers to listen to one or more songs from a playlist before it is available for sale. Additionally, this feature will automatically add the playlist to their library once it is available for sale.
To successfully pre-add a playlist it must be delivered as a regular pre-order for the iTunes Store, with at least one instant-gratification track included.
If you wish to enable Pre-Add to one of your tracks, please contact Support with the following information:
Release EAN/UPC:
Pre-Add Track:
Pre-Add Start Date:
Be sure to follow these rules before choosing a pre-order track, your playlist and songs must:
Have at least one instant-gratification track or music video
Have a sales start date that is at least one day in the future from the date you're adding pre-order metadata and the instant gratification track
Be cleared for sale in the territories you want the pre-add to be available