HOW TO SET UP AUTOMATED DELIVERIES FOR MY LABEL
We can deliver your releases to SoundCloud, who will then map this delivery to your label channel URL. Your release will then appear on SoundCloud, on your desired release date, as it would on other DSPs.
If you would like to set up automated deliveries to SoundCloud for your label, check through the below points to ensure you understand the process and how it will work. Once happy, simply enter the relevant details on the form below:
Our team will then receive your request and contact SoundCloud to set up deliveries. Once set up, we will confirm this with you, along with presenting you your "Track Report" (if necessary).
Your label will then be set up for deliveries and you should see SoundCloud now as a DSP within the LabelWorx LMS.
FREQUENTLY ASKED QUESTIONS
WHAT IS A TRACK REPORT AND WHAT DO I NEED TO DO?
The Track Report will be an export of everything currently on your channel and highlighting uploads that are not currently monetised. You can then complete this sheet and send it back to us. We'll then ensure your existing uploads are monetised correctly going forward.
HOW WILL MY CONTENT APPEAR ON SOUNDCLOUD?
Your releases will be delivered to SoundCloud as we do with all other Streaming Service DSPs, as a complete package with full-length tracks. Please note that delivered tracks cannot have their titles or artwork updated directly within SoundCloud, you must issue a metadata update via LabelWorx to make any changes.
Due to the way that the SoundCloud platform works, your release will appear first as individual tracks and then as an "album". This Album acts like a traditional SoundCloud playlist and simply "hosts" the individual tracks.
The album is ideal to use in your Smart URLs and buy links as it directs fans to the full release.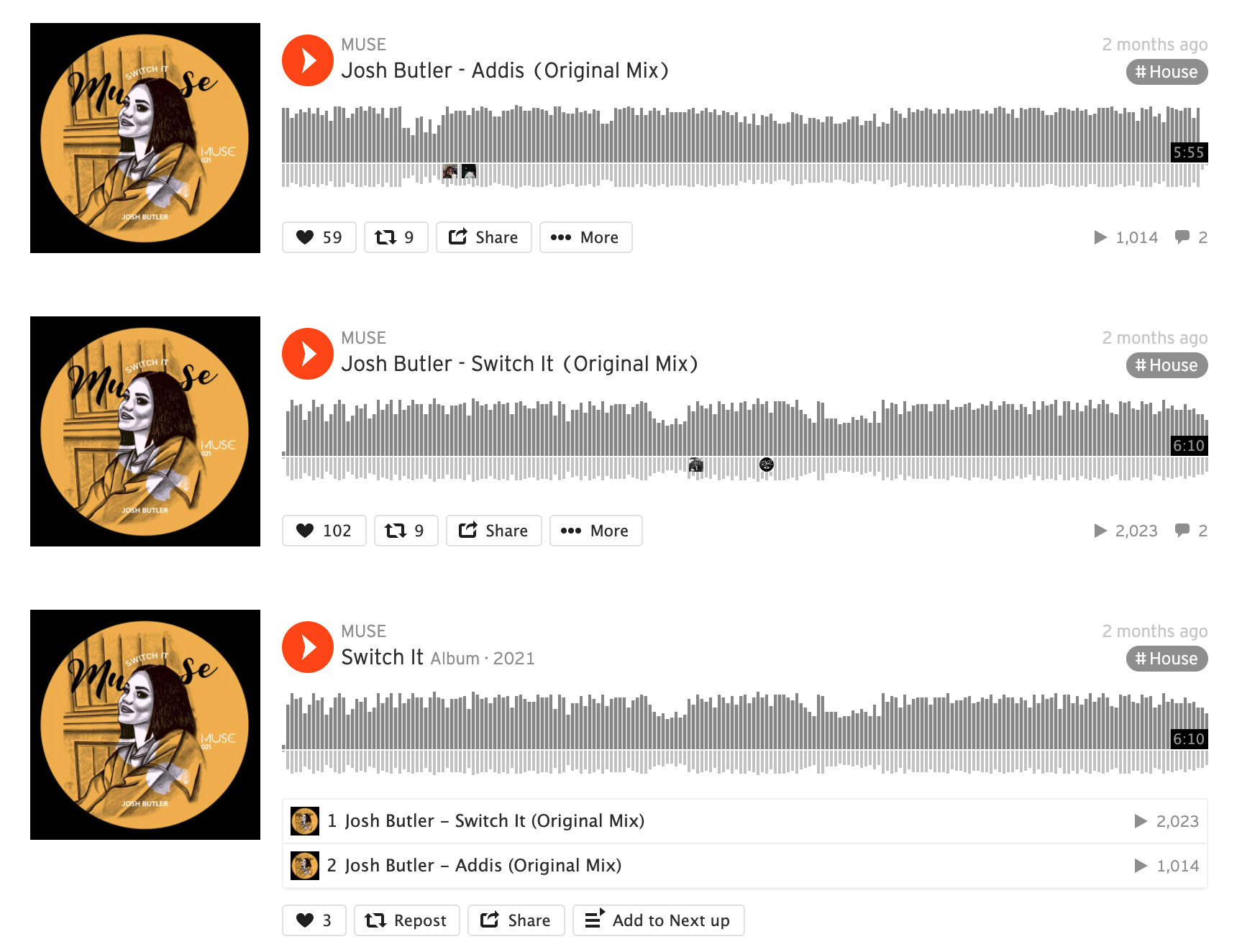 HOW CAN I MANAGE THE RELEASE DATE ON SOUNDCLOUD?
Once set up, you will have full control over when your release will appear on SoundCloud.
You do this in the "Schedule" tool when creating a release. You will see that SoundCloud will appear as a DSP within the list. SoundCloud will be listed as a streaming store, so if you use the "Quick Set Options" it will simply fall in line with all other streaming stores.
You can set a custom date if you so wish or can opt-out of deliveries to SoundCloud altogether if you had a release with particular versions (streaming/download, for example)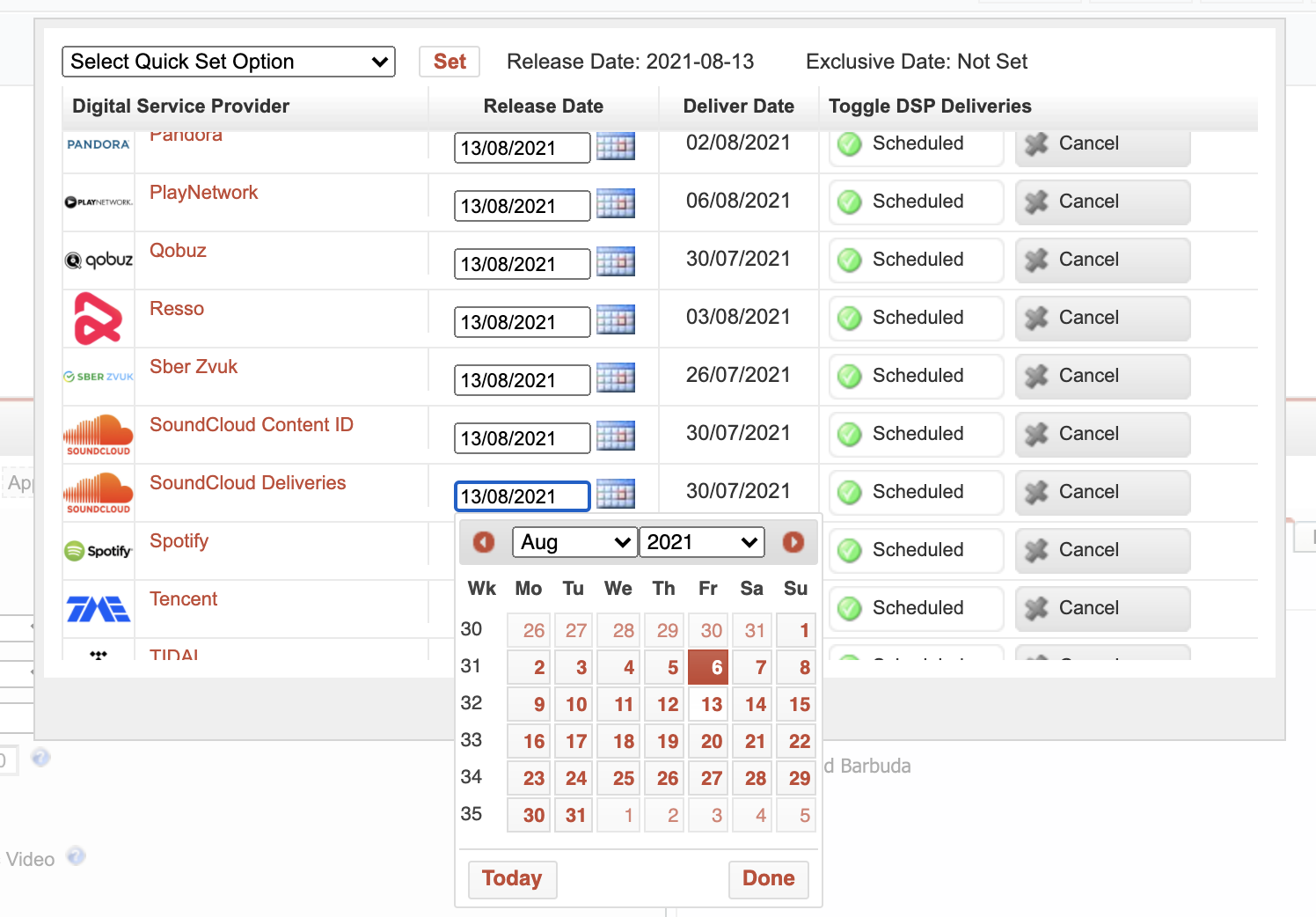 WHAT TERRITORIES ARE MONETISED?
The below territories are all currently set up for monetisation. The automated deliveries will be visible in all of the below territories on your desired release date. SoundCloud are working hard to add to this list and are constantly licensing additional territories.
Australia
the USA and its territories:

Puerto Rico
American Samoa
Guam
Northern Marianas
Virgin Islands
United Kingdom and its territories:

Guernsey
Jersey
Isle of Man
Ireland
France and its territories:

Guadeloupe
Martinique
Reunion
New Zealand
Canada
Germany
Netherlands
Italy
Spain
Belgium
Switzerland
Portugal
Austria
Sweden
Denmark
Finland
Norway
WHY ARE LABELWORX NOW AN OPTION AS A RIGHTS HOLDER?
By having LabelWorx set up the delivery to
SoundCloud
, we would be tagged to your account as "Rights Holder" and that means that we would be authorised to collect revenue on your behalf.
CAN I DELIVER MY PREVIOUS RELEASES TO SOUNDCLOUD?
If you have manually uploaded any tracks from a back catalogue release to SoundCloud, we will opt these releases out of your delivery, in order to avoid duplicated tracks. We would advise that you notify us of the catalogue numbers for any releases you have previously uploaded yourself.
Once your label is set up for deliveries to SoundCloud, we will provide you with a spreadsheet which will allow you to monetise your manually uploaded tracks (provided that they have been released via LabelWorx).
ARE THERE ANY OTHER ADVANTAGES TO SETTING UP AUTOMATED DELIVERIES?
Features/Promotion
As
SoundCloud
contain a lot of user-generated content, they have strict rules on what they can feature and promote. Having LabelWorx as a rights holder means that your content would then instantly become eligible for a lot of the
SoundCloud
features/playlist/promotion. This is because
SoundCloud
trust our deliveries have all of the correct metadata and we work with reputable labels. They can freely promote the content, knowing it is legitimately licensed.
DJ Tool Integration
With the increase of their DJ Tools (
SoundCloud
Go+) and that being available on pretty much every controller/DJ software out there, we're expecting their user numbers on this to only increase. This is another reason for full tracks being available. People want to mix with proper tracks, not clips.
Fingerprint ID
We also work closely with
SoundCloud
with their new fingerprint scan. This is only available for labels we are registered as rights holders. We scan channels within our
SoundCloud
network and find any instances of your content that is not monetised. We can then automatically monetise this content.
This process will help ensure everything on your channel is correctly monetised and not missed.