Spotify for Artists is a platform that enables you to dive deep into your label's releases and discover valuable insights about your artists' audiences. This platform also allows you to pitch your music to editorial playlists, add canvas videos, and update your artist's cover images and bios.


Signing up as a Label
If you are a label, you can sign up to Spotify for Artists as a label team here.
Select 'Label team member', then search for your label name and follow the verification process. If your label team does not already exist, search for your label and select 'Create New Team' instead.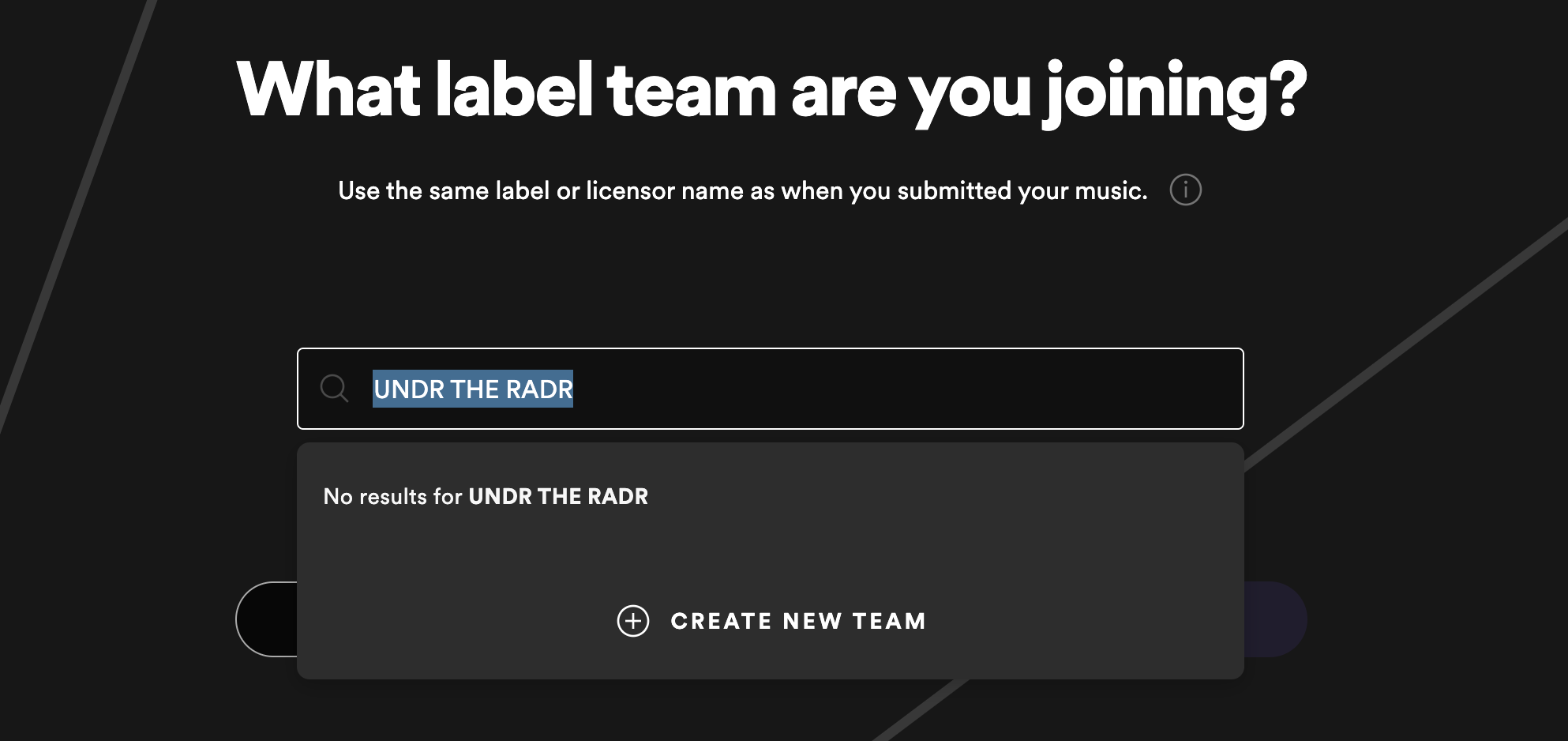 NOTE: If a member of your team has already signed up for Spotify for Artists as a label, they can invite you through their admin portal and a new registration is not required.
You will be required to enter your email address and verify it with a code sent to that address. The email address should be your label's own custom domain. If you do not own a custom domain, then the email you are signing up with should be visible on the social media links you enter in the next steps.
Once verified, simply complete your personal details form and click 'Next'. You will then be required to verify your products by entering 3 track or release Spotify URIs.
After the application has been submitted, verification can take up to 3 days.
Linking sub-labels to your main S4A account
If you run multiple sub-labels through LabelWorx and need these added to your account, please contact LabelWorx using the following link.
Please let us know the email address of the S4A account you need this linking to along with the sub-label names.
Note: All of the requested labels need to be distributed to Spotify by LabelWorx and accessed under your LabelWorx user account.
Signing up as an artist-owned Label
If you are an artist who also runs a label, first claim your label profile as per the 'Signing up as a Label' section above. You can then 'Add Artist' and claim your artist profile via the label profile.
Signing up as an Artist or Artist Manager
If you are an artist or an artist manager, you can sign up for a Spotify for Artists profile here.
Start off by selecting 'Artist or manager' then searching for your artist name and claiming your profile. You will then be guided through the verification procedure.