With over 2 billion subscribers, YouTube is a key platform for your music. More and more music is being consumed on YouTube and so it is critical to ensure your music is monetised correctly.
With a LabelWorx distribution account, this is all set up automatically for you. When your label is approved within the initial approval process we will set up your label for Content ID, which will allow you to monetise your music.
WHAT IS YOUTUBE CONTENT ID?
YouTube Content ID is an automated system YouTube have developed to allow copyright owners to identify works being used in videos uploaded to the site.
We deliver a reference file of your release to YouTube, which uses that reference file to scan all uploaded videos for matching content.
Once a match has been found, you as the copyright holder have the choice of what to do with it, such as block the content or monetise it. (Which you pre-set in the LabelWorx LMS)
Content ID can match anything from a full track to a partial match, even audio that differs in quality from the reference file.


WHAT CAN I MONETISE ON YOUTUBE?
To monetise a track on YouTube, you need to own the exclusive rights in a given territory. YouTube can only pay one rights holder for the master recording per territory.
Before setting a track to be monetised on YouTube, ensure you own the rights exclusively in the territories which you have set the release for distribution, where necessary, consider updating your artist contracts to include the exclusive YouTube rights.
if you need to adjust your territory rights for a release, you can do so on the "Release Details" page. This article will explain how: How do I specify territory restrictions on a release?
If you monetise a track that you do not own the exclusive rights to and a 3rd party also monetises the same track, the track will be in conflict and prevent it from being monetised.
The following examples are ineligible to set for monetisation:
Content licensed non-exclusively from a third party
Content released under Creative Commons or similar free/open licenses
Public domain footage, recordings, or compositions
Clips from other sources used under fair use principles
HOW DO I MONETISE WITH LABELWORX?
By the time you come to finalising your releases in the LMS, Content ID will be set up for your label so it is a case of simply authorising your desired policy to monetise or not.
This authorisation is built into your normal workflow for building and finalising a release in the LMS. When you have your release complete and set the release to Final Status, the YouTube monetisation options will appear on the Terms & Conditions screen. Here, you have the option to allow monetisation or to mark as Third Party.
If you select Monetise, we will send your release as a reference to YouTube to use in Content ID scanning. If you select Third Party, your release will not go through to YouTube as a reference as you do not have the right to monetise.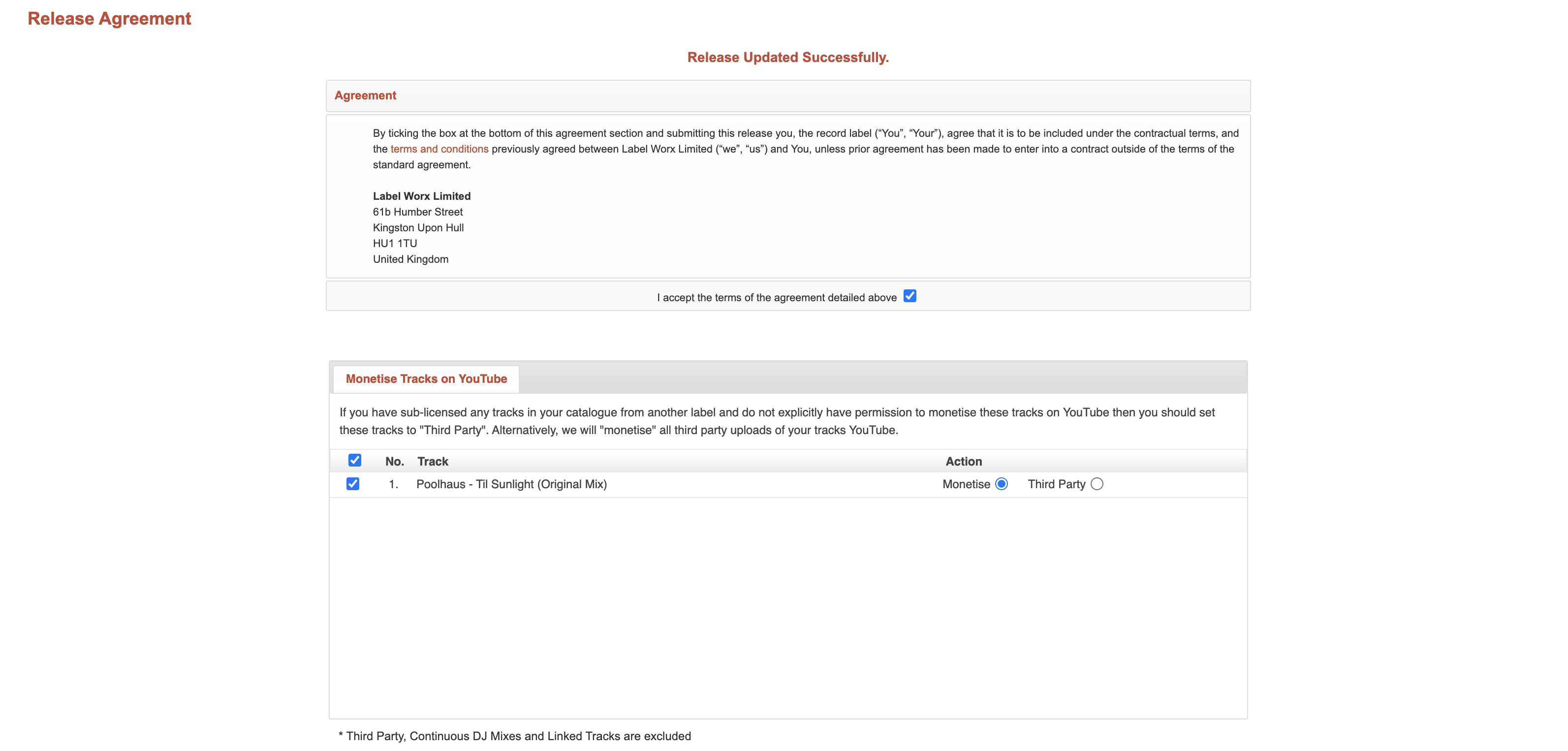 You can view your catalogue's monetisation status as a whole from within Release Management > Monetise YouTube. Here you can view all of your tracks and check on their policy. You can also allow monetisation from this screen if, for example, you marked a track as Third Party and later licensed YouTube into the agreement.

IMPORTANT - You can only monetise a track that has been finalised within the LMS
IMPORTANT - Tracks "Bundled" within the LMS do not require monetising as the original track will be used as the reference. These are essentially Third Party.