The Bundle Builder is a simple, intuitive system that allows you to quickly build new releases (Albums, EPs, and Singles) using your existing catalogue.
Why Use the LabelWorx Bundle Builder
To generate more revenue for your label and artists
To increase the exposure of your label and artists
To save you time. No re-uploading of audio or metadata
To ensure correct Metadata is used for tracks already released (ISRC Codes)
To match streaming stats on a number of DSPs (play counts)
The most common use for the Bundle Builder is to build compilations using tracks from your existing catalogue. Compilations are an effective way to give your records another chance of success or to highlight music that may have been overshadowed by another track on the same release. A well-curated compilation can give you an extra opportunity to secure publicity for the label, as well as generate additional income for you and your artists.
How to Use the Bundle Builder
The Bundle Builder can be found within the Release Management section of the LMS.
Release Management > Bundle Builder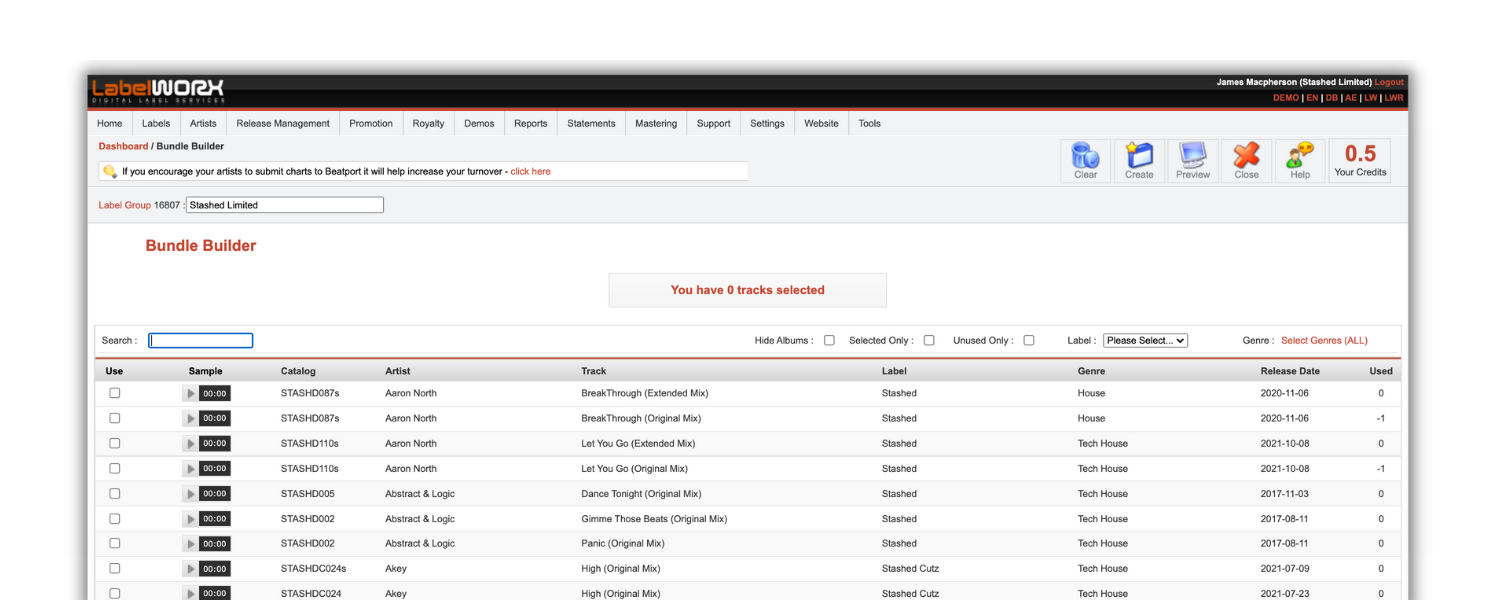 You can now review, listen to and select the tracks you wish to include in your new release. There are also a number of filters that you can use to find suitable tracks easier such as Record Label, Unused Only and Genre.
Once you have decided on a track to include, tick the Use box on the left-hand side of the screen.
After selecting all of the tracks you wish to include in the new release you need to click on the Create button from the icon menu.

You can now complete the Release Details for the new release.

Artist - Select the relevant Artist. For compilations, this will be Various Artists.
Catalog - Enter your desired alphanumeric catalog number for this release.
Release Name - Enter your desired release name
You can now complete the Release Credits for the new release.

For full details on adding credits to a release, check out the following article:
How Do I Add Credits to a Release?
Finally, you can add your Release Description and click Finish.
Your new release will now be created in the LMS and your screen will update to the Release Details page for this release. You will see all of the tracks automatically added and simply need to complete the remaining fields as necessary before submitting your release for distribution.